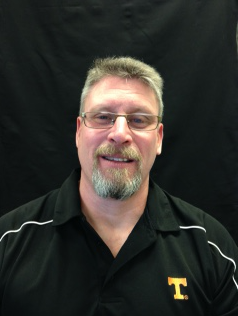 Phoenix Teacher of the Year
Congratulations to Coach Rod Shirley for being selected as Teacher of the Year at Phoenix High School. Coach Shirley graduated from the University of Tennessee at Chattanooga in 1997 with a Bachelor's degree in Multidisciplinary Studies. He began teaching in 1998 at Sequatchie County Middle School where he taught social studies and language arts. In 1999 he moved to Rhea County Central Elementary where he taught social studies and math. He went back to school in 2002 in order to obtain his certification in PE and Health UTC. In 2003, Mr. Shirley taught middle school math and social studies at Soddy Daisy. In 2004 he joined the faculty of Cumberland County Schools and began teaching PE at Brown Elementary. He continued teaching at Brown until he left to join the staff at Phoenix in 2012 teaching PE, Wellness, and Personal Finance.
Coach Shirley and his wife Lisa have been married since 2004 and have 4 children: Taylor age 24, Walker age 21, Sarah age 10, and Eli age 6, as well as 3 fur babies that include 2 dogs and a cat. Coach enjoys church activities, antique tractors, and traveling. He states that he has always wanted to travel to Nepal and see Mount Everest.
When asked why he wanted to be a teacher, Coach Shirley responded that "He had always wanted to work with kids and be a type of mentor," and his goal is to help kids develop positive relationships with other kids, their teachers, and adults. One of his favorite memories of his early teaching career happened while he was coaching football at Brown. His team had won the county wide championship and a wonderful sense of unity and vitality developed in the community around and at his school. His favorite memory since joining Phoenix continues each year when he watches the students graduate and walk across the stage. He is proud of the growth and achievements the students make and he truly enjoys being a part of it and knowing he helped make a difference.