Summer Food Service Bus is Delivering Meals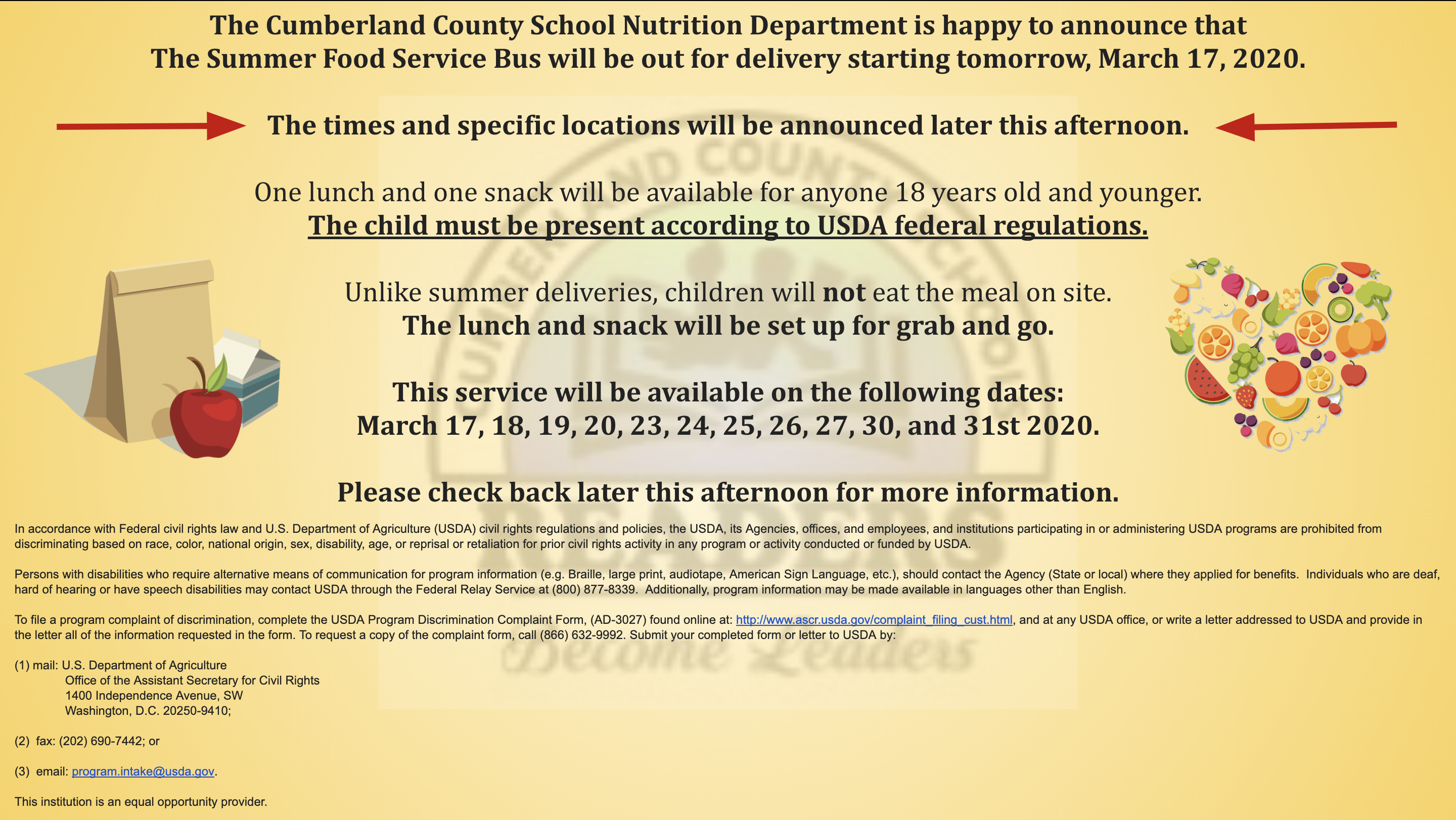 ---
The Cumberland County School Nutrition Department is happy to announce that
The Summer Food Service Bus will be out for delivery startingMarch 17, 2020.
One lunch and one snack will be available for anyone 18 years old and younger.
The child must be present according to USDA federal regulations.
Unlike summer deliveries, children will not eat the meal on site.
The lunch and snack will be set up for grab and go.
The service will be available on the following dates:
March 17, 18, 19, 20, 23, 24, 25, 26, 27, 30 and 31st 2020.
Meal Delivery Sites: (for future updates visit the CCSchools Facebook Page)
Camelot Subdivision 10:20 AM
Bread of Life 10:45 AM
Oak Crest Mobile Home Park 11:00 AM
Memorial Baptist Church 11:30 AM
Lawrence Chapel 12:00 PM
Pomona United Methodist Church 12:45 PM
Pleasant Hill Mobile Home Park 1:20 PM
Pleasant Hill Housing Development 1:35 PM
Rosewood Housing Development 11:30 AM
Obed Housing Development 12:30 PM
Pine Wood Housing Development 12:00 PM
Gateway Center 11:30 AM
Green Meadows Apartments 12:15 PM
Drive Up Grab and Go Sites:
All will be open from 11:00AM – 12:00PM (or until the last person is served)
Brown Elementary
Crab Orchard
Cumberland County High School
----------------------------------------------------------------------------------
El Departamento de Nutrición Escolar del Condado de Cumberland se complace en anunciar que
The Summer Food Service Bus estará disponible para entrega a partir de mañana, 17 de marzo de 2020.

Un almuerzo y una merienda estarán disponibles para cualquier persona de 18 años o menos.
El niño debe estar presente de acuerdo con las regulaciones federales del USDA.

A diferencia de las entregas de verano, los niños no comerán la comida en el lugar.
El almuerzo y la merienda estarán listos para llevar.

El servicio estará disponible en las siguientes fechas:
17, 18, 19, 20, 23, 24, 25, 26, 27, 30 y 31 de marzo de 2020.
Sitios de entrega de comidas: (Para futuras actualizaciones visite la página de Facebook de CCSchools)

Subdivisión Camelot 10:20 AM
Pan de Vida 10:45 AM
Parque de casas móviles Oak Crest 11:00 AM
Iglesia Bautista Memorial 11:30 AM
Lawrence Chapel 12:00 PM
Iglesia Metodista Unida Pomona 12:45 PM
Parque de casas móviles Pleasant Hill 1:20 PM
Complejo habitacional de Pleasant Hill 1:35 PM
Complejo de viviendas de Rosewood 11:30 AM
Obed Housing Development 12:30 PM
Desarrollo de viviendas de madera de pino 12:00 PM
Gateway Center 11:30 AM
Apartamentos Green Meadows 12:15 PM

Conduzca los sitios de Grab and Go:
Todo estará abierto de 11:00 a.m. a 12:00 p.m. (o hasta que se atienda a la última persona)
Brown Elementary
Huerto de cangrejos
Escuela secundaria del condado de Cumberland